Nepal Earthquake and DUMBO Deployment
7.8 magnitude of earthquake hit Nepal's Central Development Region including the capital city Kathmandu on 12th of April, 2015. The massive quake and the hundreds of aftershock altogether snatched the lives of more than 8,800 and injured over 16000 peoples. It destroyed over 5 hundred thousand houses, hundreds of temples and well preserved world heritage sites. It is believed the worst any natural disaster that struck Nepal since the 1934 earthquake.
AIT provided financial, technical and humanitarian response to the April Earthquake. Listening about the big earthquake in Nepal, AIT faculties, students and well-wishers immediately work together to prepare the necessary relief materials for Nepal. Institute level campaign were held to collect donations among its community, alumni, partners and friends. Focusing on the immediate needs, Remote Sensing & GIS program of AIT prepared a geo-portal website to display satellite maps of the damaged areas and conduct some analyses. Environmental Engineering Field of Study looked into water purification technologies which was essential in any disaster situations. Disaster Preparedness, Mitigation and Management Field of study dispatched few students to Nepal for the need assessment.
Similarly, Internet Education & Research Laboratory (IntERLab) sent DUMBO Router to make ease the local communications in the rescue camp and few hospitals. Different studies have suggested the problem of basic communication system immediately after the massive earthquake which was also a key issue in the case of Nepal. Though mobile communications were revived swiftly, the challenges were to handle the larger number of injured peoples in the rescue camp and the hospitals. Thus, along with Thai Network Information Center Foundation (THNICF), IntERLab had sent 44 DUMBO routers to Nepal aiming to assist for local communication hurdles inside the rescue camp and in hospitals.
Batteries powered DUMBO had abilities to establish local wireless mesh network inside and surrounding of the rescue camps and the hospitals. It was utilized by the Doctor and the peoples nearby of the installed devices. People connected with these DUMBO could access to the Internet, could do local VOIP call using mobile applications, and could accessed the educational contents pre-loaded in the DUMBOs.
All the routers were preconfigured by students in IntERLab before sending to the affected areas. Nepalese Students affiliated with computer science and ICTs given their valuable time to configure all the DUMBOs. They were - Chirag Rajkarnikar, Yemini Bajracharya, Dristi Deep Ratna Tuladhar, Sachham Man Buddhacharya, Suhas Shrestha, Shirish Kayastha, Manish Shakya and Nissim Lal Pradhan.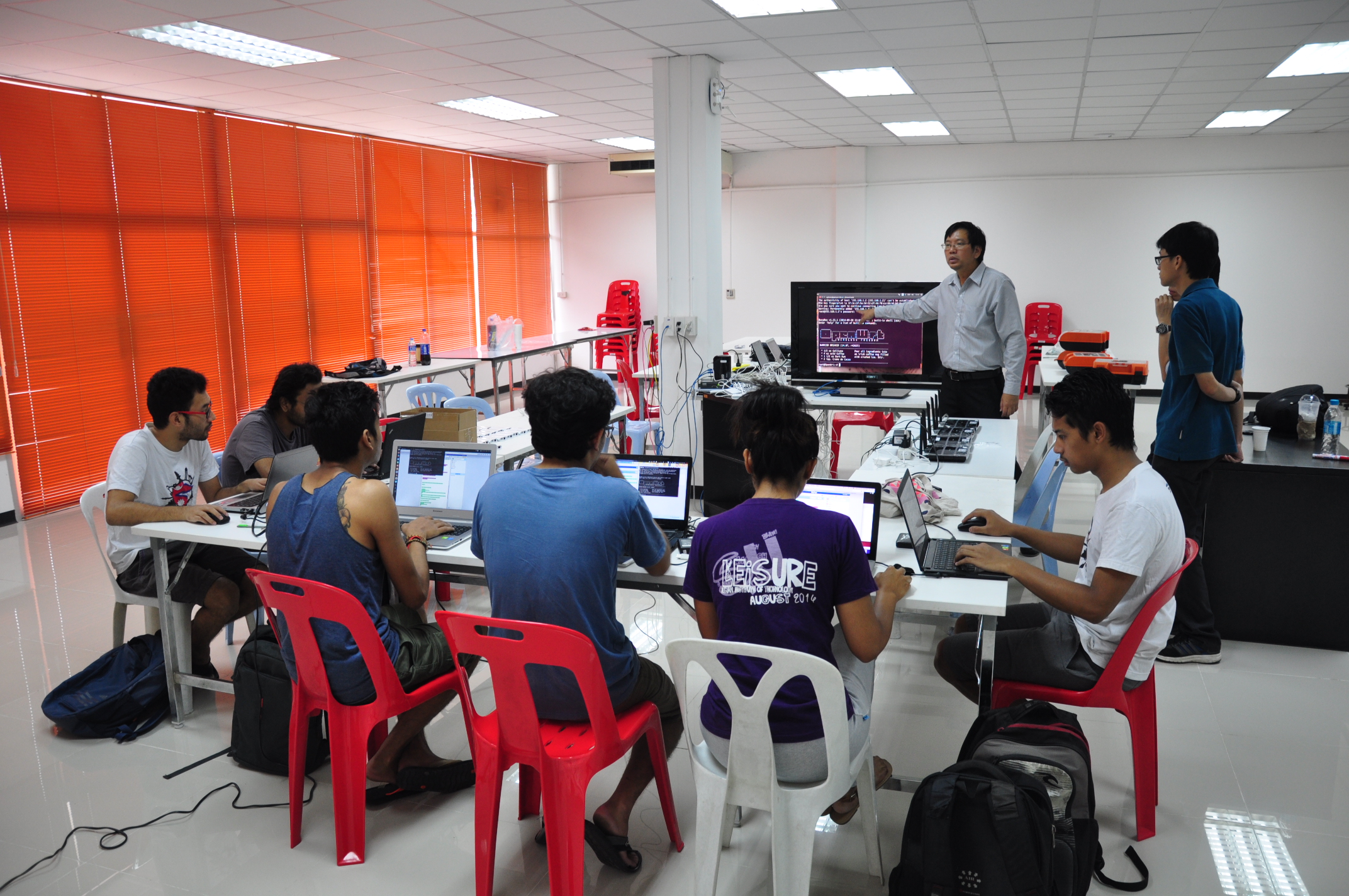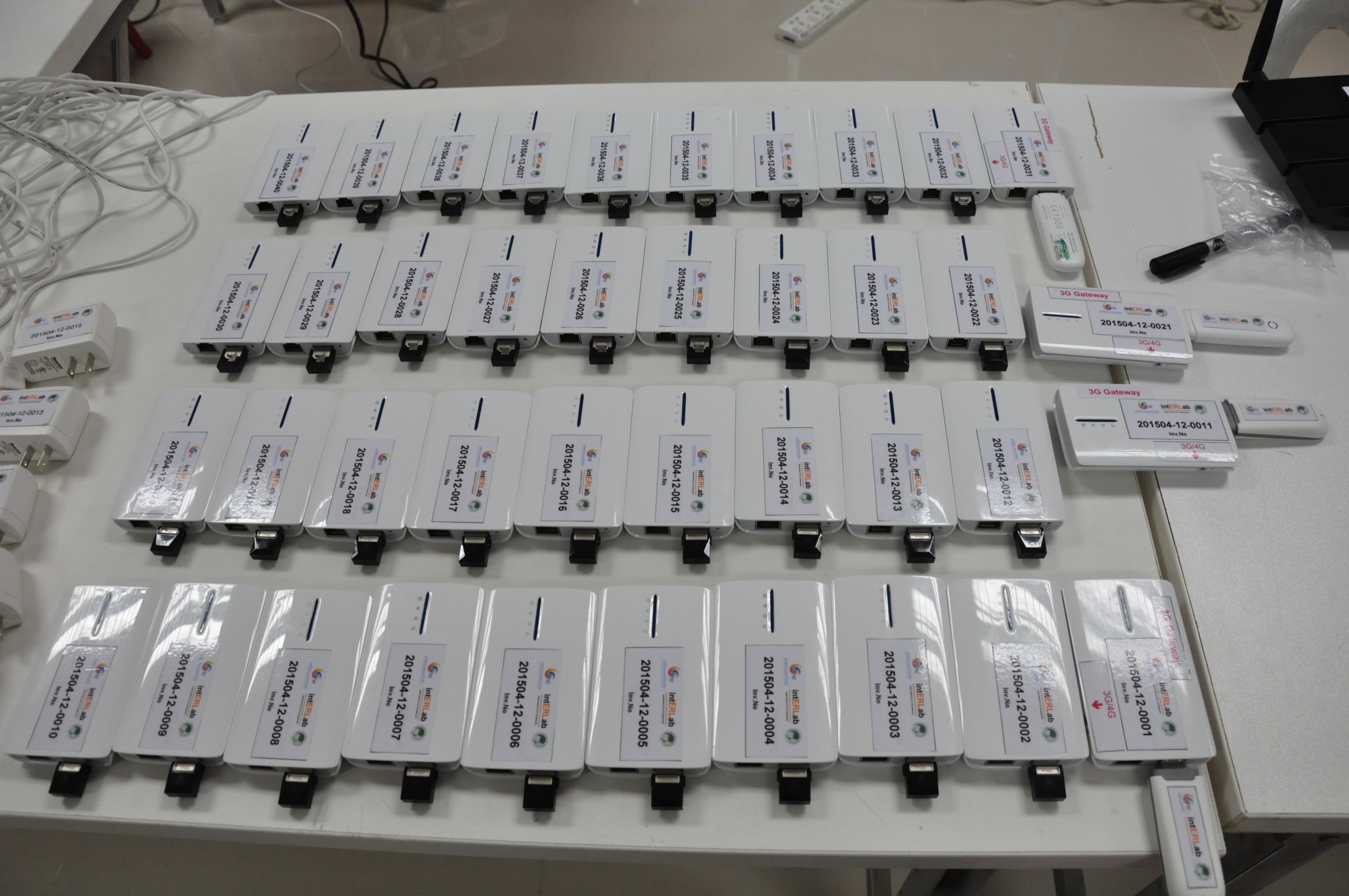 Students configuring DUMBOs in IntERLab DUMBOs ready to send to Nepal.
IntERLab also have made an instructional video in Nepali language with the help of Nepalese students. The aim was to make the deployments efforts much ease.
For more clips www.youtube.com/watch
All the DUMBOs donated to Nepal were received by Nepal Research and Education Network(NREN) and deployed in four hospitals by NREN technical team. Hospitals were Kirtipur Hospital of Kathmandu, Nepal Army Hospital of Kathmandu, Dhulikhel hospital of Kavrepalanchowk and Gaurishankar General Hospital of Dolakha districts.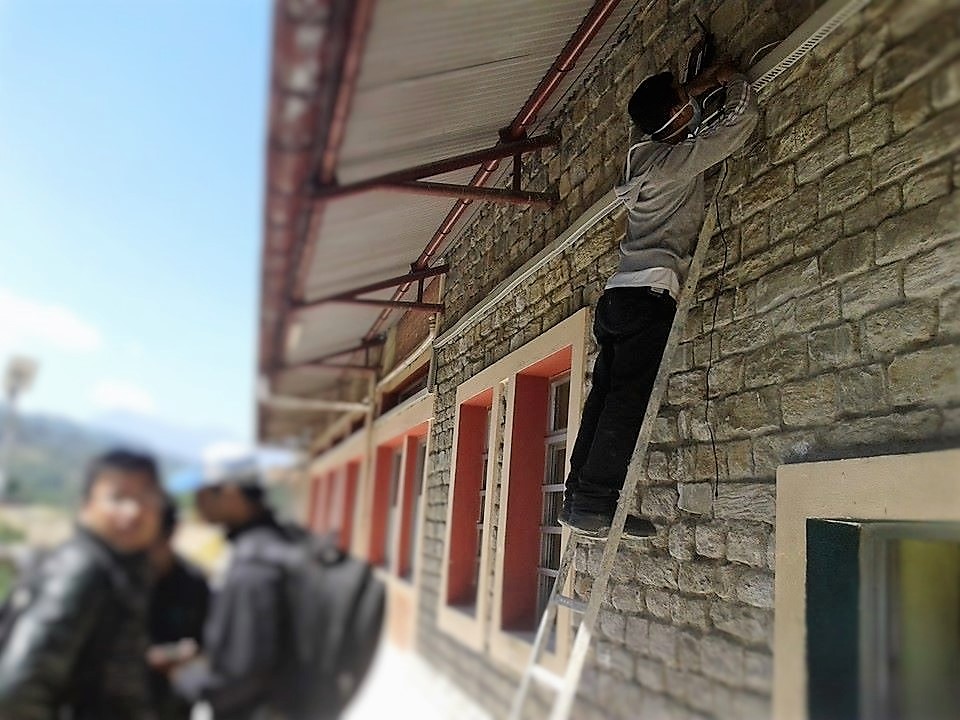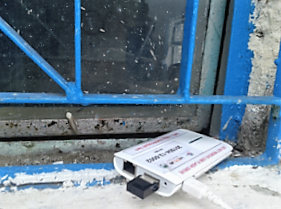 Deploying the DUMBO in Dhulikhel Hospital A DUMBO in Kirtipur Hospital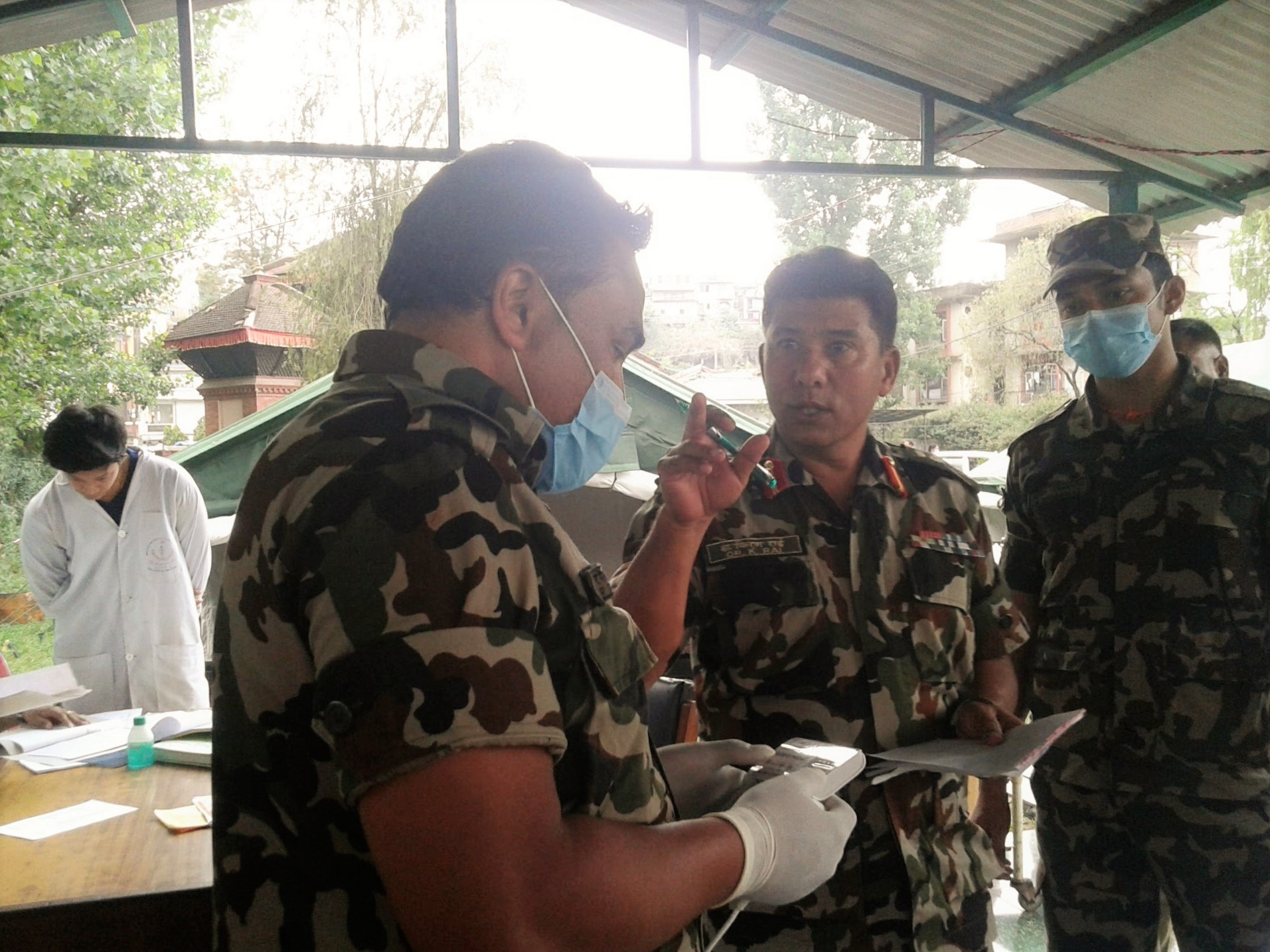 Army Personnels inspecting the DUMBO in Nepal Army Hospital DUMBO connected in Nepal Army Hospital
Usefulness:
Users of all the deployment sites in Nepal uses these devices much for making VOIP call through 'Zoiper', an Android and IOS Application. NREN volunteer configured and assist to make a test call for the users through their android and IOS devices. Few number of Walkie-Talkie were seen uses in few hospitals for basic communication which was later made ease by DUMBOs enabled VOIP call.
Similarly, these DUMBOs supported greatly to get access to the Internet in all the deployment sites. Still after a year, few hospitals are still using these DUMBOs as an easy devices to get to the Internet.
DUMBOs were also preinstalled with some educational videos especially focusing for the kids and the children's which were not used as what it was expected. The potential reasons that we were told through the NREN are - less interest towards the preloaded contents, contents were few to choose, and still users were heavily occupied with fear and mentally not feeling much comfortable.
Users impressions on DUMBOs:
"Internet connection was a problem. After the deployment, we were able to extend the connectivity in all our medical tents. Local call capabilities through the mobile Apps were much useful for us as it supports us for better coordination and quick information dissemination. Thanks for the NREN and those who donated the DUMBOs" - Dr. Kiran Rai, Shree Birendra Hospital, Chhauni.
"We found these DUMBOs much useful. During the deployment, the NREN team briefed us about how to use these devices. Local call through Apps has obviously a significant features. After the quake, internally we also have the problem in wireless connection, somehow the deployed DUMBOs fill the gap for us" – Mr. Prabin Shakya, IT Officer, Kirtipur Hospital.
DUMBOs deployment : 'Memoir of Engineers'
Dibya Khatiwada, Network Engineer and Member, NREN
After we were hit by the devastating earthquake in Nepal, everything was shattered - people lost lives, many lost their homes and some lost almost everything they had earned over the years. Bringing the situation to normal and waving up your helping hands for rehabilitation was quite challenging. The ground was still rattling and our families were still in pain, fearing when another bigger quake could occur and take their loved ones away. Many people left their homes and were dwelling in tents, hospitals were packed with casualties, communication services were halted - everything was a stop it was a panic.
The next very day we started teaming up with our friends and we were looking out for areas to help. I got an email from my ex-teammates at IntERLab about deploying the DUMBOs to aid for a disaster recovery situation. It was a boon to me - people hardly get to utilize things in real that they learn in their academic career. Me and my team mates at NREN made plans to visit at least few hospitals for deploying the DUMBOs sent by IntERLab. We received 44 DUMBOs which was carried by a Thai Volunteer Doctor.
We planned to deploy 10 set of DUMBO routers at Dhulikhel Hospital which is 25kms away from the capital city – Kathmandu. Dhulikhel hospital is a community hospital which received patients from many nearby districts as well. So after the quake large number of patients were transported to the Dhulikhel Hospital for the medical support. When we reached at the hospital, we saw a crowd of patients and medical teams rushing to and for serving them. Communication was not easier with faint mobile signals and a congested network, I hardly received a phone call from my mother while I was at the hospital. DUMBO routers which used SIP were the best option to make phone calls within the hospital periphery. Since we had a limited number of equipment's we had to choose locations carefully to place the routers and fine tune them in order to make them work with maximum efficiency. The next was setting up the SIP clients on the mobile phones for doctors and other medical teams assigning them a phone number. The doctors were astonished to see something deployed so quickly under such a panic. It was really a plug and pay kind of thing - thanks to the InterLab teammates who made it so so easy for us. Our first success in Dhulikhel Hospital.
We then planned to visit Gauri Shankar General Hospital of Dolakha district which was situated about 150 kms away from the Kathmandu. We did the motorcycle ride to get there. It was a small community hospital as was in remote areas of severely affected district. Hospital was full of patients where a doctor and 7-8 nurses were serving every one of them. Mobile phones were just a toy in their hand - no signals, no communication possible. As like in the previous case we walked through the hospital periphery, chose the best locations to place the routers and installed the SIP clients on the mobile phones of the doctors, nurses and even some emergency patients. We got kind feedbacks from all of them as it proved to be quite fruitful during those conditions. At the next very day, we have deployed two sets of DUMBOs in Kirtipur Hospital and Nepal Army Hospital of Kathmandu Valley. We felt the smile in the faces of Doctors and medical teams.
Nirajan Parajuli, Network Engineer, NREN
During the quake I was in a program in Prime College in Kathmandu. The quake was really massive and all the things were changed in couple of seconds, I hardly able to save my life at that time. Later, I was informed that my houses in hometown were totally collapsed but much fortunately, none of my family member's health were threatened. During these circumstances, I got a call from AIT. IntERLab of AIT was planning to send 40 DUMBOs for affected areas aiming to strengthen local communication and Internet access. Situation was really difficult, necessary services were interrupted, transportations were halted but I was much encouraged to assist in the difficult situation. DUMBOs should be deployed much swiftly for its better uses. On behalf of NREN, I received the DUMBOs in the Airport and quickly brought it in NREN through my motorbike. We were already informed by the NREN where to deploy these donations. The next very morning, Mr. Dibya, Mr. Niraj and me left to the Dhulikhel Hospital. Motorbike were found much handy to reach to all the deployment sites. Each hospital was crowded with patients and hospital team were trying their maximum to provide emergency health care services. Doctors, Nurses and paramedics were much busy to provide necessary treatment. We found very cooperative responses from the hospital administration during the deployment of the DUMBOs. We got the help of Hospital technical unit while deploying DUMBOs in all the hospitals. Personally, I am feeling much fortunate that I could able to assist in the difficult situation. NREN will always thankful to IntERLab for the development of DUMBOs and donation in the difficult situation.
Learning from the Deployment in Nepal: